I B

uy

O

ld

T

own !!!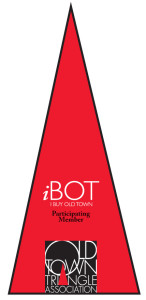 For updated information reguarding iBOT businesses during the time of COVID-19 click here
It's easy to support our local businesses.  Here's how:
One
Drop by the Triangle offices, 1763 North Park Ave, to receive your personal OTTA iBOT card or keychain card which will entitle you to special deals from participating Old Town Merchants.
Two
Look for our Old Town Merchant display to identify the merchants who are supporting us.
Three Save money by showing your iBOT card!!!  It's just that easy.
We will be signing up more merchants as the time goes on so check back frequently in order to make the best use of your iBOT card.
Participating iBOT Merchants
Adelaide:  10% discount/full-price items


Adobo Grill:  10% discount
Cocoa + Co.: 10% discount
Corcoran's:  10% discount – *not valid with other discounts or offers*
 
 Ford General: 10% discount on all full-price items
The Fudge Pot:  10% discount
Galleria Liquors:  10% discount (not valid with other sales, not valid on tobacco products)
Judy Maxwell Home:  10% discount
Hotel Lincoln:  15% discount (best available hotel room rate, does not include cocktails) with code TRIANGLE
Kanela's Breakfast Club:  15% discount, Monday – Friday
 
 Mesa Urbana: 10% discount, weekdays
Marge's Still:  15% discount on Sundays and Mondays
 
Massage Envy:  Free Enhanced Therapy upgrade on a 90-minute session. Old Town, Streeterville and Clybourn locations only.
Near North Animal Hospital:  15% discount on examinations and vaccinations
Nookies: 10% discount (not valid Saturday and Sunday 8 a.m. – 4 p.m.)
Occhiali Eyeglass:  10% discount complete eyeware purchases, including frames and  prescription lenses
Old Town Oil:  15% discount (not valid with other offers)
Old Town Valet Cleaners
Old Town Valet Cleaners: 10% discount (dry cleaning only)
Red Orchid Theatre:  $30 theatre tickets for $20 – a 33% discount
Ranalli's:  10% discount
Salon Rouge:  15% discount
Sara Jane:  10% discount
ScottFree Salon: 10% discount on haircutting services
Second City:  20% discount regular ticket prices for The Second City Mainstage and e.t.c.  Theaters, Tuesday- Thursday and Sunday. Limit 4 tickets per order. Limited availability. Mention Triangle when ordering tickets, and show iBOT card when picking up tickets.

The Sedgwick Stop:  20% discount on total bill, Monday-Friday before 4PM (Lunch) dine in only, not valid with other offers

 String a Strand on Wells
String a Strand: 10% discount
Twin Anchors:

10% discount for in-house food and beverage only, no carry out. Dinner Monday through Wednesday; lunch Saturday and Sunday from Noon – 4PM.

 The UPS Store:  333 West North Plaza, 15% off any purchase, excluding shipping and postage.
 Vision Boutique: 20% discount on eyewear, self-pay only. 
 Zanies Comedy Club: Free Admission Tuesdays, Reservations Required, 2 Drink Minimum