October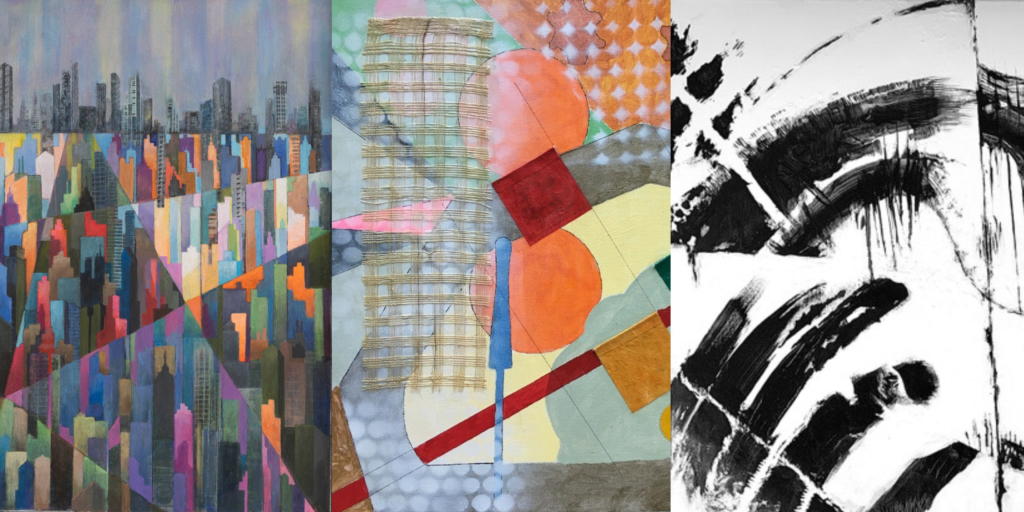 Triad: three artists, Baugher, Beugen, and Holubow; three dots on the map of Old Town are friends, colleagues, and neighbors—each with a unique history that gives shape to their individual vision—three different perceptions manifested in their art.
The art speaks for itself, but the artists have something to say about their vision. Statements for each are presented separately at the exhibit.
Before this show closes, Lincoln Park Art Night will return! For the close of this special show, join us for a special reception on November 2 from 5:30-8:30 PM.  
For this special night, the Leslie Wolfe Gallery will join with the Madron Gallery, DePaul Art Museum and gallery 1871 to celebrate the art of our community! Mini-coaches will loop attendees to all of the locations. Each will be open late for this special evening. Plan for a great night at the Leslie Wolfe Gallery and enjoy other art locations in the neighborhood!
Opening Reception: October 8: 2 – 5 PM
Exhibit: October 7 – November 2
Closing Reception: November 2: 5:30 – 8:30 PM
---
Norman Baugher:
DRAWING IN OIL: SENSE AND SENSITIVITY
"Drawing in Oil," like the Seinfeld show premise, is about nothing. But, as with Seinfeld, the nothingness is illusory. Its nothingness lies in its absence of source material, lack of color, suppression of objectives, initial dismissal of subject matter, and disengagement from conscious thought to allow the subconscious mind to guide my hand. Nothing becomes something as I allow feeling and intuition to prevail over control and theory. The result is an image pleasing to my eyes and sensitivities without regard to anything else. This path from nothing to something is how I draw. I adopted and adapted these methods for "Drawing in Oil."
Drawing for me is spontaneous, cathartic, joyful, and fully engaging. It's my freest artistic means of expression. The first stroke influences outcome even when when it is buried by succeeding strokes. Gratification follows when hints of images appear within a gaggle of lines and nothing-yet-squiggles coalesce into maybe-something-squiggles as more strokes are added. In time the accumulation of strokes develops into meaningful images—a pleasing abstraction or a suggestion of objects in nature.
Painting the way I draw required changes in technique. The style, imagery, and even content of individual paintings were influenced by the resolution of differences between what's possible in oils on canvas versus what's achievable with pen and paper. Scale, functionality of medium, and even human physicality made a difference in execution. Starting with no planned image and puzzling over technical differences between drawing and painting was fun and enriching. It prompted me to try new tools, techniques, and mediums and to engage with the canvas in different ways than I otherwise might have considered. Reason enough to experiment with painting the way I draw.
Shel Howard Beugen:
ABOUT HIS WORK
Men and women have created beautiful, amazing things which through design and function have advanced our civilization. However, in the never-ending rush of technology and invention the creations of earlier times are easily discarded, their beauty, functionality, and interest still intact. In my art I strive to rescue the fabrications of what was, save them from their destined oblivion, and use them as elements in new explorations.
I often begin with a single rescued form and wonder what it wants to become. The exploration of possibilities engages me. Geometric forms, composition, balance, and visual tension interest me. A completed piece is a record of where my curiosity has taken me and helps me serve this art form.
Sandra Holubow:
ARTIST STATEMENT
Born and raised in Chicago, my primary concern has been City/ Community/Neighborhood. I have used the concept of the generic urban area that could be anywhere, crossing international boundaries, inclusive of all people. But for TRIAD I stayed closer to home because of my concern for our country, our city.  My pride in our Nation's accomplishments and my hope for the future is mixed with concern for its deep divisions. We are a patchwork of many regional differences with diverse people and interests, but we must learn to live under one Democracy. Unfortunately, we seem to have lost the shared values which gave us cohesion. We have become splintered.
Chicago, a microcosm of our nation, also needs mending. But I am inspired by our survival after the 1871 Fire. After that Inferno, a few single-family homes and St. Michael's Church were still standing in our historic Old Town, testimony to our strength, endurance, our triumph. Today Old Town and Lincoln Park are a mixture of Victorian architecture, vintage apartment buildings, and contemporary homes, bordered by high rises, a salute to our past and our present, the old and the new. Our everchanging skyline with world-class architecture is visual proof of then and now. Afterall, we invented the skyscraper! Our park system, beaches, public transportation, and public institutions help define our neighborhoods. We are a city of multi-ethnic, multi-racial people, and our communities are subject to rapid social and economic change. Together we must find solutions to our urban problems.
I am neither an abstractionist nor photo realist. I keep objects visually recognizable because it is important for me to connect to others, to share an experience, an observation, a mood. I'd like to enlarge, inform, and reveal some aspect of the human experience, and place, where we live our lives is as important as how we live our lives.