The Old Town Art Center
About the Old Town Art Center
Small class sizes allow students of all skill levels to take part in any given class. Instructors provide each individual student the amount of attention required. The focus is entirely on the visual arts – through drawing with pencils/charcoal and painting with oils, watercolor, pastels or acrylics. Figure Studio is open to all (for a full session or as a drop-in).  
Sessions typically begin the first week of January, the last week of March and the first week of September. Short sessions are offered in the summer and toward the end of the year. Classes are offered during the day, at night and on weekends.  
---
Fall class listing available now! 
Fall classes are offered for ten weeks with workshops and shorter classes provided as noted below. Registration is required. Scholarships are available. If you plan to pay for class at the first session, please call the office (312.337.1938) to place a registration hold for the class you would like to attend – this will help us to ensure minimum/maximum attendance. 
Art Class FAQs
OTTA membership is open to all

Up to two art classes can be made up within a session

There are no refunds after the 1st class

Classes with fewer than five students may be cancelled – class size is limited to sixteen students. (Note: if the City of Chicago Department of Public Health changes the guidelines, we will follow  their recommendation.)

Students provide their own supplies

Scholarships are available – please scroll down for complete information
---
Suzanne Flavin Scholarships
The Old Town Art Center offers need-based financial aid through the Suzanne Flavin Scholarship Fund. Financial assistance is provided for the complete cost of a class and is offered to no more than two students for each full session – one watercolor class and another in any media. To apply, please complete the application found here or visit the OTAC (1763 N North Park Avenue) to pick up a copy.  Recipients will be announced two weeks prior to the start of the next session.
---
Workshops
Drawing Basics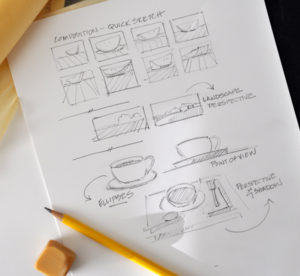 Douglas David
Thursday | September 30th | 10:00 AM – 4:00 PM | One Day
Fee: $180 non-members / $165 members
This simple one-day workshop on drawing will walk you through many of the "basics" of drawing. Whether a refresher or the first drawing class you have ever taken, it will make sense and help you have a better understanding of drawing. Developed by the many requests of painting students. This course will also help to make your paintings better and to correct problem areas that might come up in your work. Some of the basics of composition and general sketching to get shapes and proportions correct, massing in large shapes, simple easy to understand perspective for landscape/seascape, understanding and tackling the task of drawing the various ellipses on vases, pitchers, bowls, and plates for floral/still lifes, point-of-view, contour line, figure and how to build into a streetscape and get the scale correct, and the checklist of what to look for when trouble shooting a painting and a drawing problem. The entire class is done with pencil in your notebook/sketchbook.
Painting Seascapes in Oil 
Douglas David
Friday, October 1st and Saturday, October 2nd | 10:00 AM – 4:00 PM | Two Days
Fee: $350 non-members / $335 members
This studio seascape painting workshop will yield several waves and exciting seascapes over a 2-day period. The class will cover the basic principles of oil painting with regard to seascape painting. Discussions and lectures on basic composition, massing, building form, light and shadow, near and far, capturing and developing atmospheric distance, and depending on your own style, knowing when a work is finished (learning how to not overwork your painting). Students will work in their own style/technique so that the finished work is their own. Douglas will overview his palette and the concepts his work entails.
---
Art Classes 
Please note:  You can register for classes by visiting our secure member portal.  Membership is not required to register for art classes. If you have any questions or run into any problems please send an email to info@oldtowntriangle.com  
---
Figure Drawing Studio
Mondays | September 13th – November 15th | 12:00 – 3:00 PM | Ten Weeks 
Monitor: None
Fee: $145 non-members / $130 members or $20 drop-in fee
Artists hone their skills, working directly from a live model. Beginning through advanced students are welcome to advance their figure stylings.  One hour is devoted to quick gesture poses. The focus for the remaining time will be longer poses for finished drawings and paintings. We provide drawing benches, easels, tables, and boards. All media are welcome.
---
Oil & Acrylic Painting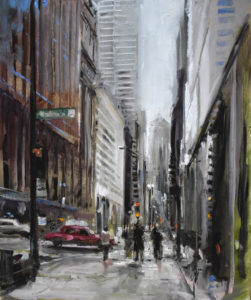 Joe Taylor
Tuesdays | September 7th – November 9th  |  10:00 AM – 1:00 PM | Ten Weeks
Wednesdays | September 8th – November 10th  |  6:30 PM – 9:30 PM | Ten Weeks
Fee: $275 non-members / $260 members
Students take on projects of their own choosing.  Joe provides support in difficult areas; whether color, mass, shadows or any other technique that fails. His level of instruction is dependent on each individual student's needs. This class is as challenging for experienced painters as it is exciting for those expanding their knowledge. 
---
Pastel Painting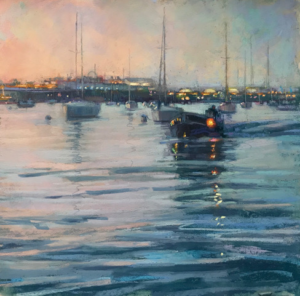 Kathleen Newman
RETURNING FALL 2021
The pastel class reunites in person in the OTTA classroom this Spring! Kathleen provides individual instruction as required and also specific assignments for those students that are wanting more academic exploration. Each week prior to class, Kathleen will send a reference photo and description of the upcoming weekly focus.  Students are able to work on class assignments or explore their own painting themes with guidance from Kathleen each week during class. A group critique will also be part of the experience before the end of each class. 
---
Acrylics – Drawing to Painting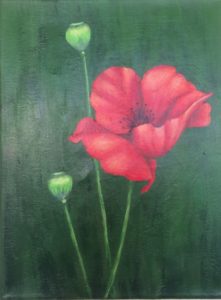 Vivian Visser