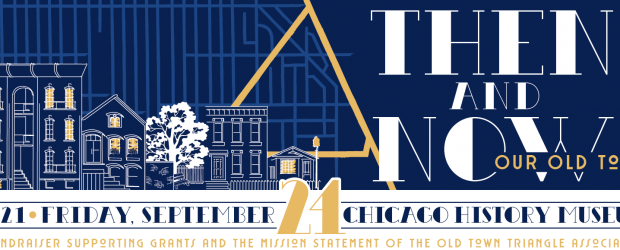 LAST CALL — DON'T MISS OUT ON YOUR CHANCE TO EXPERIENCE HISTORY and MAKE some of YOUR OWN!
ENJOY AN EVENING INSIDE and OUTSIDE AT THE ICONIC CHICAGO HISTORY MUSEUM. THE OUTDOOR PATIO WILL BE ILLUMINATED WITH A CANOPY OF LIGHTS DESIGNED BY KEHOE DESIGN. The beautiful interior of the Museum can't be missed.
THE CHICAGO HISTORY MUSEUM
FRIDAY, SEPTEMBER 24TH, 6-10 PM
$100
THIS SPECIAL EVENING INCLUDES:
MUSIC from THE MATT JAROSCH TRIO
HEAVY APPETIZERS and SWEETS from BLUE PLATE CATERING
PREMIUM OPEN BAR SELECTIONS and SOFT BEVERAGES
ACCESS TO THE VIVIAN MAIER-IN COLOR EXHIBIT
HERE IS A PEAK OF WHAT THE EVENING HOLDS FOR EVERYONE
SPECIAL OFFERING for 100 PEOPLE
COCKTAIL PARTY in the HOMES OF SASHA MAYORAS, TOM KEOGH AND JULIE AND EVAN JAHN. GUESTS WILL ENJOY HEAVY APPETIZERS, DRINKS AND LIVE MUSIC.  A HISTORY- THEN AND NOW- OF EACH HOME WILL BE ON DISPLAY. $75 per person.  Proceeds support the Old Town Triangle Association mission and goals.
The Holidays are right around the corner, something for you and gifts for others.
RAFFLE ITEMS
AUTOBAHN DRIVE EXPERIENCE AND LUNCH
MILITOS CAR DETAILING INSIDE AND EXTERIOR
IVME PACKAGE
CLUB PILATES ONE MONTH UNLIMITED CLASSES
ITALIAN WINE EXPERIENCE FOR UP TO 10
ONE NIGHT IN A JUNIOR LAKEVIEW SUITE AT THE HOTEL LINCOLN AND $100 CARD AT THE KENNISON
SALON BUZZ SERVICES
FLEET FEET + AB AND FLO PILATES + STRETCH LAB PACKAGE
WILDWOOD PHOTOGRAPHY SESSION
MENOMONEE CLUB MEMBERSHIP, TWO HOUR PARTY ROOM + ACORN BAKERY BASKET + SMART E POSTCARD TEACHING KIDS NUMBERS, COLORS, INSECTS, FRUITS AND MORE
BUY OUT Offers for 17 Salon and Barber services from SCOTTFREE SALON AND BARBERS
SILENT AUCTION ITEMS – New items still being added!
CHEVELLE AUTOGRAPHED DEAN GUITAR (BLACK MATTE)
BEAUTY FAVES BASKET
MAGICAL NIGHT PACKAGE – TICKETS TO THE MAGIC PARLOUR AT THE PALMER HOUSE + GIBSONS
RIVER ST. JOE ORGANIC FARM AND BREWERY TOUR, LUNCH, SWAG BAG FOR FOUR + CORCORANS
CASE OF WINE PRIVATELY CREATED – SIX PINOT NOIR, SIX SAUVIGNON BLANC
WILD WILLOW HAIR SALON + CORCORANS + TWO SCARVES
ZACH LAVINE AUTOGRAPHED JERSEY AND BASKETBALL
LINCOLN PARK ZOO EXPLORES' CIRCLE MEMBERSHIP
OLD TOWN FAVES-CORCORANS + NOOKIES + TWIN ANCHORS
TOMATO BLISS TOUR FOR SIX WITH A BOX OF BLISS FOR EACH
DATE NIGHT(S)PACKAGE- BOKA + JPARKER = GEMINI
KEEP IT CLEAN PACKAGE- LIBMAN CLEANING SUPPLIES = WELLS AUTOMOTIVE
SPA BARK DOG GROOMING
RESTAURANT ROW- LITTLE MEATBALL + ORSOS + CORCORANS +OLD CROW SMOKEHOUSE + MOE'S CANTINA
GREEN CITY MARKET CHEFS BBQ 2022- TWO TICKETS
BOBBYE COCHRAN PAINTING – SEA BREEZE
DON WIDMER PAPERMAKING CREATION
REBECCA LOWERY CERAMIC CUP + SAUCER
PETER VALE VASE- TWO FACED CAT
SUZANNE SCHMID PARROT FEATHER LAPEL PIN
LINDA BERNASCONI BLOSSOM EARRINGS
CHUCK MEYERS PAINTING
HANSEN FOLKE SCARECROW JACKET- SMALL
ANGIE NARON 8X8 SHADOW BOX- FRIDA AND DIEGO REIMAGINED
I HEART RADIO TWO TICKETS TO JINGLE BALL
WINE COLLECTION FROM YOUR OLD TOWN NEIGHBORS
 LIVE Auction
"The Dream City" is a piece created by Mark Hersch that pays tribute to the 1893 Chicago World's Fair. It shows how the World's Fair would look in present day Chicago – Then and Now. The story of how this was created is not to be missed. "The Dream City" is a limited-edition print 43/50.
Please Note: We hope that the City will allow the Chicago History Museum to only require masks at private events where there is a 75% vaccination rate. If the case rate falls, and we are able to enjoy the evening without wearing masks, we will need copies of attendees' vaccination cards to present to the Museum. We respect your privacy and will destroy all copies of cards after providing the necessary documentation to the Museum.
Thank you, in advance, for helping to ensure an event that meets CDC guidance and allows the greatest ease for all of our guests.