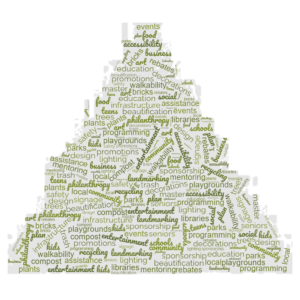 When the Triangle Board created the 2021/2022 OTTA Budget, a new line item was added, Special Projects. This was created with the intent of directing some of the excess reserves ($35,000 this year) to community based efforts that would do good in the community. No other description or limitation was provided. This was intentional. Every member is encouraged to make suggestions. We hope that all suggestions will A) provide a significant contribution to the neighborhood and B) align with the mission and goals of the Old Town Triangle Association.
Members are asked to submit suggestions (as well-developed or nascent as they may be) for the Board to discuss at the December Board meeting on the 15th. Being wildly optimistic, the hope is that we have so many possibilities that this will provide sufficient time to review them all before the Annual Members Meeting on January 27th (save the date).
What is on your wish list for the neighborhood? Let us know. Nothing is off the table. Big projects or small, all suggestions are welcome. We recognize the fact that you see things that others miss.
Send questions, suggestions, comments to
info@oldtowntriangle.com
 and please use the subject "
Special Projects
". Remember, we need to hear from you
before December 15, 2021.
Thank you for taking the time to consider how we can best improve the Triangle neighborhood.