Fall classes begin Tuesday, September 5, 2017
We are also offering several shortened workshops (four week and six week classes)!
Click here to view the fall schedule and register for classes.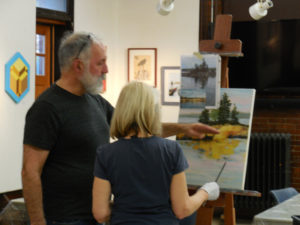 This fall, we are excited to offer two workshops for those wishing to learn a new skill or for those who find 10 weeks too long of a commitment. Didier Nolet brings his classical, training to a four-week session focused on oil pastels. There is no need for setting up various mediums and solutions, or brushes or much of anything else. All you need is a sheet of paper and you are ready to get started. In 1949, a Parisian painter approached Henri Sennelier, the famous artist materials manufacturer, about creating a wax color stick for his friend Pablo Picasso. Their collaboration produced the Sennelier oil pastels. Students may wish to purchase Sennelier oil pastels jointly with another person or online. They are considerably less expensive when purchased on-line.
In October, Marie Kirk Burke will introduce students to the subtleties of abstract oil painting. This six-week workshop is for students at all levels who are interested in abstract oil painting. Marie will start the workshop by having students create a collage comprised of colors and images and then creating a painting from the collage. By doing this, students will focus on composition, balance, and color harmony/relationship. Marie's approach ensures this will be a great experience for all. Plan on bringing a lunch to the first class, as this will be an open discussion time to learn about how the class will progress.
Returning on a new night is our Drawing class, now on Monday nights with instructor, Jeff Krantz. Whether you are new to art classes or not, delving into drawing is a means and an end. Painting skills will improve drastically with reinforced drawing techniques. And drawing skills can be honed and appreciated entirely on their own. While drawing can be a difficult endeavor; it is a skill that can be learned and improved upon. Anyone, at any level, will benefit!
Classes are appropriate for all skill levels. Whether you are an experienced painter or someone picking up a brush for the first time, OTTA teachers will lead you to the tools necessary to take your craft a step higher. Classes are led by some of the finest professionals in their media. Each of our teachers has a different style of teaching and may focus on a different technique or process. Small class sizes are offered so no one is left behind. Individual attention is the hallmark of all of our classes. There is a class available for everyone.