Below is a final list of candidates who are running for the 2021 OTTA Board. As noted in a previous correspondence to membership, the Nominating Committee put forth its slate of candidates for all open Board positions. Two additional candidates submitted petitions for inclusion on the ballot and those petitions were verified by me, the OTTA Secretary. Each petition included signatures exceeding the required 35 voting OTTA members to be included on the ballot per the Association's bylaws. The final ballot is as follows:
President
Vice-President
Secretary
Dee DeCarlo +
Chris Nelson* +

Darius

 

Tandon

* +
Karen Pfendler*
John Postel
Treasurer
Director (2 openings)
Ed Sokolofski*+
Zac Bleicher +
Carly Jenkins +
+Submitted by Nominating Committee
*Currently serving on the 2020 Board
Short bios of all candidates are found at the end of this message.
Due to COVID-19, the annual Members' Meeting will be held virtually on January 28th 2021. Follow-up correspondence about the virtual annual meeting will be sent out via email to membership in the coming weeks.
Each voting member will be sent a ballot for the upcoming Board election on January 6th, 2021. Members will be able to return their completed ballot by mail or drop it off in person to the Triangle office at 1763 North Park Ave. Members will have until 3PM on Thursday January 28th to return their ballots, at which time an Election Committee will oversee the counting of ballots. If you believe you are an eligible voting member and do not receive a ballot, please contact Barb Guttmann at the Triangle office at 312-337-1938 to verify your eligibility and have a replacement ballot issued to you, if necessary.
We wish we could be together for our annual Members' Meeting, but are certain that the virtual meeting and election will go smoothly.
Sincerely,
Darius Tandon
Secretary, Board of Directors
Old Town Triangle Association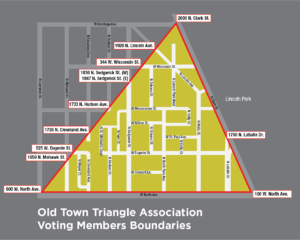 Bios of candidates on the 2021 ballot:
President:
Dorothy DeCarlo
Living on Cleveland Avenue in the shadow of St. Michaels since 1980, Dee quips: "I am the ghost of Ogden Avenue!". Dorothy brings strong managerial skills developed at ESPN as Director of Marketing and as international liaison for Underwriters Laboratories. Displaying strong leadership abilities, she was elected first woman president of the Illinois Restaurant Association and served as Chair of the of the Museum of Science and Industry's President's Council. Dee retired last June from DePaul University where she taught Integrated Marketing, Branding, and Ethics, but remains active with DePaul's Women's Network and St. Vincent DePaul community. Mother, mentor, and lifelong runner with boundless energy, she is ideally suited for the challenging role of President of OTTA. Levering executive experience, business expertise with determination, Dee is 100% prepared. She has served the OTTA as a Director, Events Chair, First Sight Chair and Grants Chair plus working on any other program that needed her.  She is honored to be slated for this important position and looks forward to serving the community.
Karen Pfendler
55-year OTT Resident
Retired Teacher/two master's degrees
Faculty member (20yrs) American Youth Foundation specializing in Leadership Development
Owned & operated property management company focusing on budget & property compliance
Loves sailing, playing bridge, poker
Parent to 5 rescue animals
Current President and Historic District (HD) Chair
Past Positions include: Board Secretary (5years), Chaired: Membership, Art Fair Gates (4years), Continued Education, Capital Improvements.
Member both current & past of: Neighborhood Improvement Committee (NIC) HD, Art Fair, Bylaws, Continuing Education, Gallery, Community Relations, & Events
Established Finance Committee 2019
Facility upgrades from 2012-2020
Developed NIC budget; initiated a NIC brick buyback program for members for repairs/replacements to sidewalks/parkways
Garnered free tree planting from the city; oversaw trees/parks infrastructure maintenance
As HD Chair, working with City to prevent de-classification/demolition of historic properties by developers in the OTT.
Karen is seeking to resolve precedent setting historic and legal challenges that emerged during her tenure. Please support her continued efforts with your important vote.
Vice President:
Chris Nelson
Chris Nelson and family have called the Triangle home since 2005 and he has been extremely active with the OTTA ever since. Chris has served the Triangle in a variety of roles including 15 years as Art Fair Gate Captain (2006-2020); Chair, Membership Committee, 2015-2020; Chair, Communications Committee 2018-2020; Art Fair Gates Co-Chair 2018-2020; First Sight, 2018-2019 presentation and technology support. As an Executive Creative Director overseeing a staff of incredibly creative people, Chris is well-suited to assist with the needs of the OTTA in his current role as a Director. Chris was honored to have been nominated to serve as Vice-President. If elected to that role, Chris hopes to work with the board, members and neighbors to position the OTTA not only as a steward of the Old Town Triangle, but as a source to build a better, inclusive, and welcoming community. He hopes to help foster involvement from even more neighbors, friends, and family in this wonderfully creative community we're so fortunate to call, "home."
John Postel
John Postel moved to Chicago in 2010 and was immediately entranced with the Old Town neighborhood. His now-wife, Sara Nash, grew up in the Triangle. After moving to Old Town in 2014, the couple has since purchased Sara's childhood home on the 1800 block of North Lincoln Park West that has been in the family since 1976. Raising their two daughters, Delaney and Hilton, in the neighborhood is a pride and joy for the family. On a given day, you might see their two daughters playing in the garden, walking through the neighborhood with their grandmother, or looking at the art in the Old Town Triangle. When not working at Cohen Financial Management, John has recently joined HDPZ and NIC to contribute to the OTTA and its mission. He has worked with neighbors and the OTTA on concerns surrounding safety and security in the Triangle.
Secretary:
Darius
Tandon
 has lived in the Triangle since 2014. He is in his second year on the OTTA Board of Directors. 
Darius
 has served as the head of the Community Relations Committee both years and he is currently serving as the Association's Secretary. Other volunteer roles serving the OTTA include volunteering for the Old Town Art Fair in 2016-2019 as a gatekeeper and support for the artists' setup. 
Darius
 believes that to serve effectively on the OTTA Board, necessary skills include a willingness to listen to different perspectives, strong interpersonal and communication skills, and ability to work effectively with other Board members — areas in which he believes he has strength and brings expertise to the table. In his free time, 
Darius
 works as a professor at Northwestern's School of Medicine!
Treasurer:
Ed Sokolofski has lived in the Triangle for 15 years, since 2005. His contributions of volunteering have been vast and includes two previous terms as Treasurer of the OTTA, when he has maintained and improved the financial viability of the OTTA; roles on the Finance Committee and Nominating Committee; supporting the OTAF Artists' Breakfast; and, working the gates throughout many the OTAFs. Ed's corporate and small business credentials are stellar and support his ongoing role as Treasurer of the OTTA, including as Owner of American Greenwood, Inc.; President of Wico Corp; Executive VP of Turtle Wax; and, Marketing Management for Quaker Oats. Ed is uniquely qualified to continue his role as Treasurer of the OTTA.
Directors:
Carly Jenkins and her young family have lived in the Triangle for 2 ½ years. A Florida native who moved to Chicago, Carly initially lived in Lakeview/Boys' Town before settling in Old Town. She dreamed about moving to Old Town for a number of reasons – including its sense of community and walkability, with a focus on the architecture and history. Carly has served on the OTTA's Events Committee, a good fit for her, with her background in advertising/marketing and events production. She provides a fresh outlook about how the community can move forward, grow and solidify its spirit during these unique times.
Zac Bleicher is a Dallas native who moved to Chicago in 2006 and in 2014 moved to the Triangle. He joined the OTTA in 2015. He owns and lives in a celebrated Edgar Miller property on Wells Street and cherishes his involvement with the Edgar Miller Legacy organization, a grant recipient of the OTTA. He is steeped in heritage. While Zac has not served on any OTTA Committee, he brings to the table many years of experience in nonprofit management and development, public relations and engagement, Board governance, accounting and financial planning, program development, historic preservation advocacy and more. Zac is already deeply engaged in the historic and cultural preservation efforts of Chicago and looks forward to focusing those efforts to benefit the OTTA!